Come along to our local Election after-party at Brookwater and enjoy some great company!.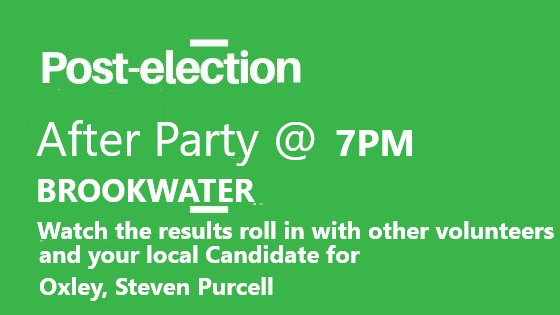 It's the after-party we've all been waiting for! 
Join us as we end the Election craziness with a local post-election after party at 7 Fernbrook Close, Brookwater after the polls close to celebrate the massive effort all of our volunteers have poured into this monumental election.
While it's unlikely we'll know the outcome of Larissa's senate race on the night, we'll still be able to watch the results of our Lower House races across the state and the country.
Let's get together to send the Federal 2019 election off with a bang!
As your local Greens Candidate for Oxley I would like to personally thank every single one of you for all your amazing efforts during this campaign.
This event is BYO Drinks, Food will be provided.
Looking forward to seeing you all there.
Steven Purcell
Candidate for Oxley
May 18th, 2019 7:00 PM through 9:00 PM
7 Fernbrook Close
BROOKWATER
QLD
4300