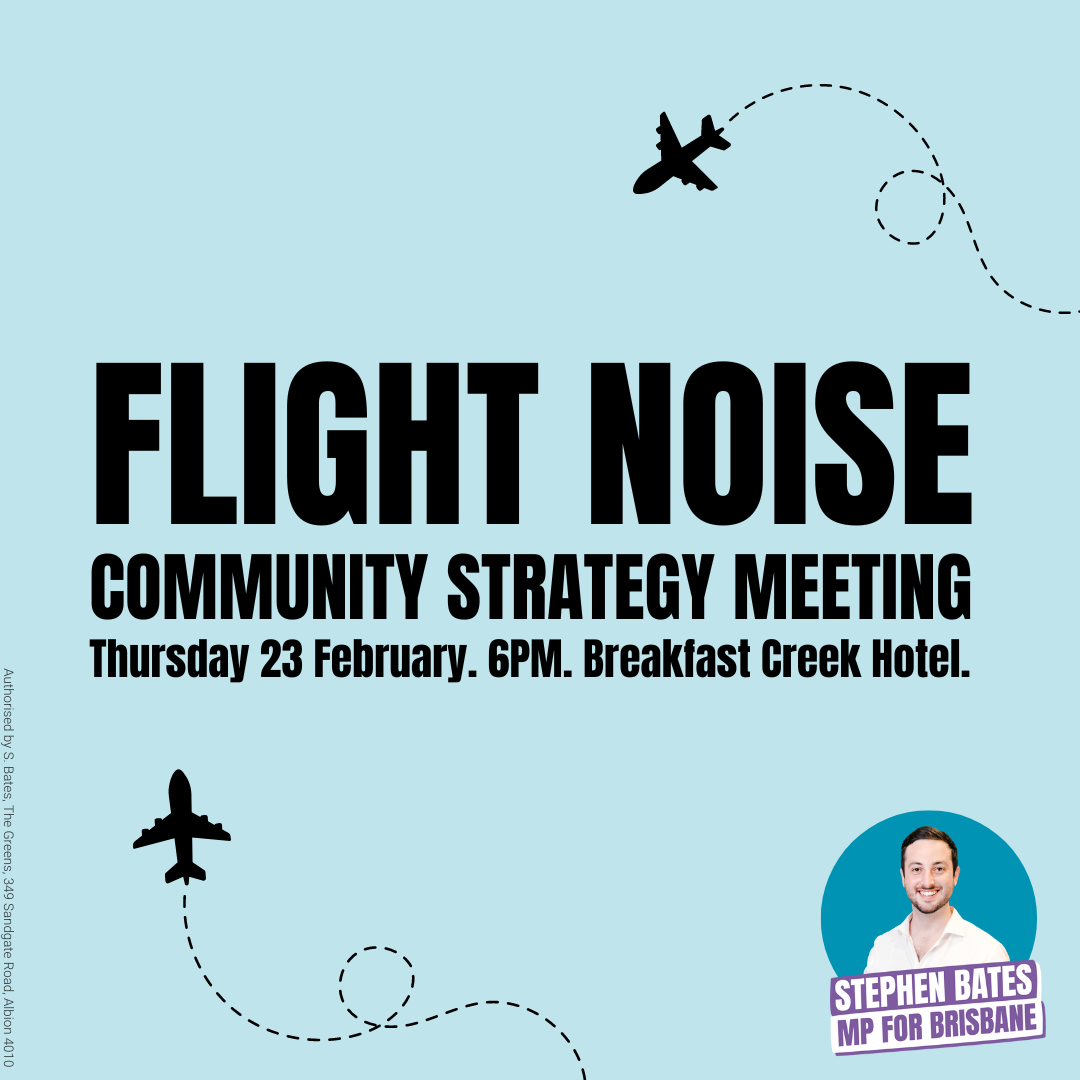 After years of reports and reviews into the new runway, the government has failed to act to protect Brisbane residents from unsafe flight noise. Both Labor and the LNP continue to prioritise private airport profits over the community they are supposed to serve. So, we're going to have to work together and force some government action. 
In the 1990s, more than 10 000 people marched against flight noise from Sydney Airport, creating pressure that the Government could not ignore. Now, Sydney residents enjoy noise mitigation controls including a cap on flights and a night-time curfew, while Brisbane has none of these protections.
It shouldn't be up to residents to force the Government's hand into sensible measures like this, but history has shown us that is often what's required. That's why Max Chandler-Mather - Greens MP for Griffith, Elizabeth Watson-Brown - Greens MP for Ryan and I will be bringing the resources of our offices to help build community power strong enough that we can no longer be ignored. 
To pull this off, we will need to bring local impacted residents from across the city together around a common strategy. So, please join us at our community strategy meeting, where we will have a representative from Brisbane Flight Path Community Alliance (BFPCA) to provide an update, before we discuss next steps and build consensus on a strategy moving forward, including our plans to hold a large protest action alongside neighbouring communities in the Griffith and Ryan electorate. 
As your MP, I'm committed to pushing this matter in Parliament and the media, as well as working with the community to fight for the outcomes we need and deserve, but it's going to take all of us. If you have friends, family or neighbours who are also impacted, start talking to them now and encourage them to come along too!
 
February 23rd, 2023 6:00 PM through 8:00 PM
2 Kingsford Smith Drive
Breakfast Creek Hotel
ALBION
4010