This is the second annual Gold Coast Pride March & Fair with the March from 10am along the sands of Main Beach  (meeting at 9am at the Rainbow Greens Stall) followed by Fair Day 11am-4pm in McIntosh Island Park. 1,000 people are expected from all over Queensland.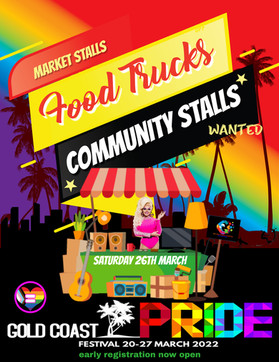 There is a HUGE Rainbow Greens Stall planned and the theme will be The Greens opposition to the Religious Discrimination Bill which both major Parties have promised to introduce.
It cannot be stressed enough that this is not just for LGBTQIA+ people and EVERYONE who can attend should.We encourage anyone that supports our rights and wants to show solidarity with the community to join us. The bigger our Green Entry in the Parade the greater prominence we have and it WILL be noticed by those attending.
Green T-Shirts should be worn (extra will be available there) and everyone will either have a small rainbow flag or green pom poms to wave. This is the only Pride March in the world that actually takes place along a beach.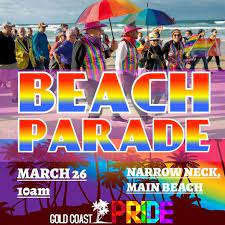 PRIDE BEACH PARADE - Wear your brightest rainbow colours to the beach as The Gold Coast Greens march together along the foreshore of Surfers Paradise Main Beach along the Narrowneck section in front of Macintosh Island Park! Wheelchair and mobility-impaired friends will parade parallel to us along the footpath, join us and cross Macintosh Island Bridge together!
GOLD COAST PRIDE FAIR DAY - A relaxing day in the park. Bring your picnic blankets and find a spot under a tree while you watch the entertainment on stage. Then grab a bite to eat at one of our food trucks or perhaps a stroll through the market stalls. Don't forget to bring you kids as they can relax and read a book in our Storyfest chill out space. If you have fur kids you might want to enter them in the fur baby competition.
FREE ENTRY TO BOTH EVENTS & PARKING AVAILABLE AT MCINTOSH ISLAND CAR PARK (enter from Gold Coast Highway)
June 4th, 2022 9:00 AM through 4:00 PM
Main Beach Parade
McIntosh Island Park
MAIN BEACH
QLD
4217
Download iCalendar entry for this event.
iCalendar feed for this event.